第三代单导发热电缆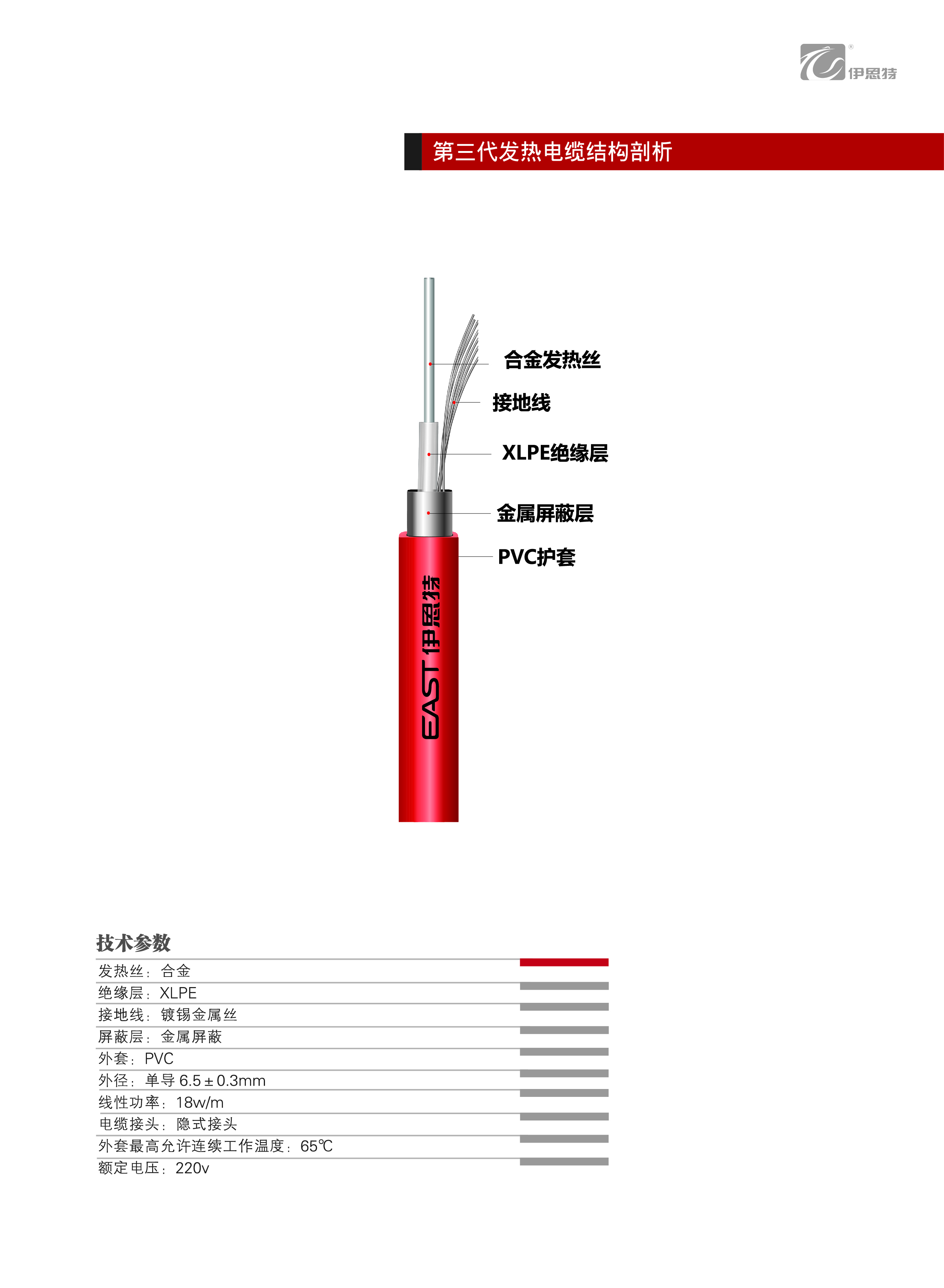 第三代发热电缆
East electric heating cable products series
Third generation heating cable
简介introduction
第三代发热电缆为单层绝缘结构,适用于以地砖或木地板为地面装饰材料的住宅及办公楼冬季供暖,屋顶融雪及地面化冰等,其接头采用自主的专利技术,在发热电缆表面用→SPLICE←表示。
The third generation of heating cable is a single layer of insulation structure, applies to wooden floor tiles or decoration materials on the ground of residential and office buildings in winter heating roof snow and ground ice, the joint adopts the independent patent technology, heating cable surface used to splice the said.
应用Application
住宅采暖、办公楼采暖、学校采暖、屋顶融雪等
Residential heating、Office building heating、School heating、Roof snow melting, etc.
第三代发热电缆:隐式接头阶段
Third generation heating cable: Hidden joint stage
随着技术的发展,电缆制造设备及工艺的不断完善,采用隐式接头方式解决传统发热电缆的不足。隐式接头则是采用特殊工艺将发热部分的芯线与电源引线连接起来,解决冷热接头处的绝缘层及护套层不能连续的问题,从而大大提高了发热电缆的使用寿命。
在一些高寒地区,人们习惯用地毯或动物的毛皮作为地面装饰物,但国家质量监督检验检疫总局和国家标准化管理委员会于2007年发布《GB/T20841-2007/IEC60800:1992额定电压300/500V生活设施加热和防结冰加热电缆》标准:发热电缆的芯线加热温度最高为90℃,电缆PVC护套最高温度为65℃,因此第三代发热电缆上面不能使用地毯或其他厚物覆盖,否则由于温度不断升高,覆盖后的地面部分热量散发不出来,长期使用导致局部温度过高从而引起发热电缆不制热。
With the development of technology, the continuous improvement of cable manufacturing equipment and technology, the use of implicit joints to solve the problem of traditional heating cable. Implicit joints is the special process connects the heating part of the core wire and the power supply wire and solving insulating layer and a sheath layer can not be continuous problems of the hot and cold junction, thereby greatly improving the service life of the heating cable.
In some alpine areas, people are accustomed to carpet or animal fur as ground decoration, but State Administration of quality supervision, inspection and quarantine and the National Standardization Management Committee in 2007 released the GB/T20841-2007/IEC60800:1992 rated voltage 300 / 500V living facilities for heating and anti node ice heating cables of standard: up to a maximum of 90 DEG C heating cable core line heating temperature, the maximum temperature of PVC cable sheath to 65 DEG C, so above the third generation heating cable cannot use carpet or other heavy material covered, otherwise due to rising temperatures, after covering part of the ground heat does not come out, long-term use result in local temperature is too high to cause heating cable heating。
技术参数发热丝:合金
绝缘层:XLPE
接地线:镀锡金属丝
屏蔽层:金属屏蔽
外套:PVC
外径:单导6。5±0。3mm
线性功率:18w/m
电缆接头:隐式接头
外套最高允许连续工作温度:65℃
额定电压:220v
Technical parameters
nsulation layer: XLPE
Earth wire: tin plated wire
Shield: metal shield
Jacket: PVC
Outer diameter: single lead 6.5 + 0.3mm
Linear power: 18w/m
Cable connector: Hidden connector
The maximum allowable working temperature: 65
Rated voltage: 220V
---